Для "дгевней дгевней" страны с кучей войн слабенько ... очень слабенько представлено "дгевнее" ШЛЕМОстроение :



Helmet (18th Century CE China)

Кто то поставил садовые лейки или типа того, а китайские умельцы превратили их в "дгевние" шлемы.



Manchu Imperial Guard's Parade Uniform Helmet Qing Dynasty 1655 to 1911
Late 19th century Jordan Schnitzer

200 лет носили !!!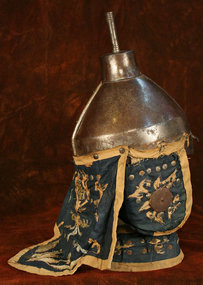 Chinese parade helmet, 19th century

Ceremonial Armor Steel, copper, gold, silk, metallic thread Chinese, Qing dynasty century Helmet



18th Century Chinese Helmet with Original Embroidery

A rare Chinese Iron helmet of military type. This old example is of considerable weight

Ага РЕДКИЙ шлемик на типично ШТАМПОВАННОЙ СТАЛЬНОЙ основе ...



Mass produced Chinese helmet from late Qing Dynasty (circa 18th Century AD) .



Antique 18th C. Qing Qianlong Dynasty Period Chinese Bannerman's Helmet





Chinese suit of armor consisting of well forged helmet dating from the 17th to early 19th century



19th Century A Ceremonial Helmet, China or Mongolia

16th 17th Century Army Lobster Tail Helmet Chin Scales Chinese Korean Ming Sword


Tibetan helmet, comparable to a Mongol form of the 12th-13th century surviving only in book paintings, with hemispherical skull and symmetrical brim. Wrought of a single piece of steel, engraved overall in flame motifs inlaid in gold and silver, and

Как раз в таких бегали японцы по ВКС




Helmet China, 19th century The Hermitage Museum | Arms and Armor ...

В 20 веке китайцам надоело заниматься ШЛЕМОстроением и они перешли на импорт обносков 2 МВ из Гейопы :



German military advisers and the modernization of Nationalist Chinese Troops in the 1930s.




Про 1930 годы конечно врут, это ГВ после 1945 года, тогда англо-пиндосня слила свои трофи эти "дгевнюкам" по своей старой привычке.

Жаль германский шлем шибко засветился, а то мы бы наблюдали и на его базе тварения "дгевних" китайских умельцев под чутким руководство товарища МАО.